Back Taxes Help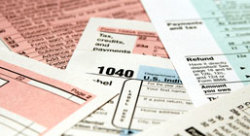 Are you burdened by back taxes? Let Taxation Solutions, Inc. take the weight from your shoulders. We provide a wide array of tax help services, and we're here to help local individuals and businesses resolve delinquent taxes, file late tax returns, and complete other forms of back tax assistance. Whether your unpaid taxes go back years or you missed a single deadline and want to deal with the issue before it becomes any worse, you're in good hands when you contact our pros. We tailor our tax help program to your specific needs and circumstances, which allows us to offer some of the best back taxes help in Colorado Springs and the surrounding area. Receive a free consultation or estimate when you contact Taxation Solutions, Inc. today!
Our tax assistance programs involve the following:
Determining the total amount of back taxes you owe
Helping you file late returns and submit late payments
Amending incorrect tax returns
Determining your eligibility for a settlement or resolution
Negotiating settlements on your behalf
Advising you on the smartest methods of payment
Petitioning the tax authority to lift any penalties
Representing you during an audit
Remember: Filing a tax return late is better than never filing it at all. Don't panic if you have late or unpaid taxes--just call our professionals as soon as possible. Taxation Solutions, Inc. will be there to find the most suitable resolution for your case. The important thing is that you act quickly. When you contact our specialists, we'll keep you from ill-advised actions like paying back taxes with a high-interest credit card or a retirement fund. Instead, we'll provide you with expert guidance every step of the way. In fact, we can assist you with any delinquent taxes for up to 10 years (at which point a statute of limitations takes effect and the IRS can no longer come after you). With our back tax assistance, you'll get the best possible settlement and emerge from your tax problems into a brighter financial future. 
Licensed & Insured Back Taxes Help
Serving the entire Colorado Springs area, Taxation Solutions, Inc. is licensed to provide help with back taxes in all 50 states. We're also fully insured for your protection and peace of mind. On top of those qualifications, we hold affiliations with several tax industry organizations:
American Society of Tax Problem Solvers
National Association of Enrolled Agents
National Association of Tax Professionals
Even though we've been in the back tax resolution field for 40+ years, you don't have to worry about our knowledge or expertise being out of date. We constantly stay up to date and informed about all of the issues that affect our clients, so we can give you superior solutions and customer service.
If delinquent taxes and related penalties are causing you sleepless nights, don't hesitate to call Taxation Solutions, Inc. We'll help you file back taxes and move on with your life. Our team is composed of enrolled agents, CPAs, and an attorney, which means we have all the bases covered when it comes to dealing with your IRS back taxes.
So what are you waiting for? Get a free cost estimate for help with back taxes and schedule your initial consultation by calling Taxation Solutions, Inc. today! 
Back Tax Problems
IRS Back Taxes
Back Taxes Assistance
Tax Help
Delinquent Taxes