IRS Audits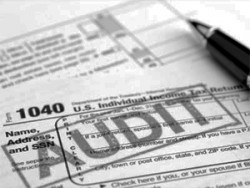 If you recently received notice of an impending IRS audit, you might be in a state of panic. That's what happens to most taxpayers in your shoes. Thankfully, you can now breathe easier because you've come to the right place for IRS audit help and audit defense services. With over 40 years of experience in the field, Taxation Solutions, Inc. has the technical expertise needed to prepare for your IRS tax audit, as well as the individual practice necessary to successfully negotiate with the IRS. We're licensed in all 50 states and fully insured, making us the audit defense firm you want on your side. Our team is here to give you the wide range of resources and dependable customer service you deserve during this stressful time, so get in touch with us today for a consultation.
Depending on your specific tax problems, Taxation Solutions, Inc. can provide services including:
Determining the reasons for your tax audit
Gathering documents to support your case
Speaking on your behalf during the audit defense
Negotiating tax settlements such as an offer in compromise
Filing an appeal, if the ruling goes against you
Advising you on avoiding future IRS audits
We're one of the most experienced companies in Colorado Springs when it comes to providing individuals and businesses with IRS audit representation. Let our specialists put that experience to work for you as we handle your audit by the IRS. We'll work tirelessly to give you accurate and effective audit defense, tailoring our services to your specific needs and circumstances. Our goal is to bring you into IRS compliance while also minimizing the fallout you experience. An audit by the IRS doesn't have to be stressful and unpleasant when you have Taxation Solutions, Inc. on your side.
Full-Service IRS Audit Defense
For your peace of mind, we'll be there for you at every step of your IRS audit defense. In fact, with our licensed IRS audit representation, you won't even need to be there for the proceedings! And if your IRS tax audit doesn't go your way, we'll help you avoid IRS audit penalties and back taxes by appealing the ruling. If that doesn't work out, we have a tax attorney on staff who can take your appeal all the way to federal tax court. We care about our clients, and that means being there for you until your case is closed.
Contact Taxation Solutions, Inc. today to get a free cost estimate for our IRS audit help, and to learn more about what sets us apart from other companies in the greater Colorado Springs area. We care about quality workmanship and customer service. Our affiliations with industry organizations including the ASTPS, NAEA, and NATP prove our commitment to superior tax resolution service. We look forward to giving you the help with IRS tax audits that you need! 
irs audit
offer in compromise
tax audit