Tax Relief for Truckers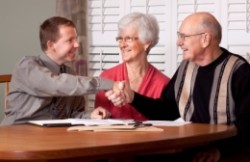 As a trucker, you're used to living life on the road and handling personal business during your brief periods at home. Unfortunately, tax problems can crop up when you're least able to respond to them, and you may have trouble securing tax relief on your own. That's where Taxation Solutions, Inc. comes in. We're a licensed and insured tax relief company offering a wide array of tax debt relief services for truckers, and we're eager to give you the help you need. Call now to learn more about how our tax relief attorneys can meet your needs, and to schedule your free phone consultation with a member of our team!
At Taxation Solutions, Inc., we believe that tax relief help should be tailored to your specific situation. That means taking into account not only your job as a truck driver, but also any other circumstances that led to your current tax troubles, and employing strategies that are most likely to bring you the tax relief you need. Contact us if you're struggling with:
Back taxes
Tax penalties
Tax liens and levies
Wage garnishment
IRS audits
And more!
Taxation Solutions' team has more than 40 years of combined experience in providing tax relief help, making us one of the Colorado Springs area's most experienced tax firms. But our years in the business aren't all that sets us apart from other local tax relief companies. We're also affiliated with the American Society of Tax Problem Solvers, National Association of Enrolled Agents, and National Association of Tax Professionals. These professional associations help us stay up to date on issues that affect our clients and also provide us with an even greater network of resources. Plus, we're licensed to appear in federal tax court for clients in all 50 states! You'll be hard pressed to find a more qualified tax relief company in town.
Full-Service Tax Debt Relief
Being a truck driver takes up most of your time and even more of your energy. That's why Taxation Solutions, Inc. is committed to taking care of every detail of your tax problem. Whether you need tax debt relief in the form of a tax settlement with the IRS or you need a tax relief attorney to guide you through audit preparation and to speak on your behalf during the actual audit proceedings, Taxation Solutions, Inc. is here for you every step of the way. We put quality workmanship first on every job, no matter how big or how small. When you hire a tax relief attorney from our team, you can expect nothing less than skilled, knowledgeable, and effective tax services.
If you're ready to take steps to bring your tax issues to an end, and you're a trucker based in the greater Colorado Springs area, call Taxation Solutions, Inc. right away! We're truly one of the region's best tax relief companies, and we understand how your job as a trucker affects your tax filings. We're ready to get started on your case. 
truck driver tax help
tax relief